Product classification
E-mail: sales@
leshangwiremesh.com
wire rope mesh
Date:2019-01-19 Click: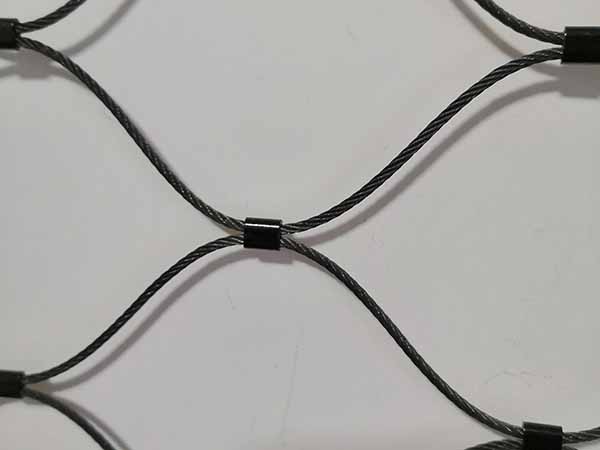 wire rope mesh

wire rope mesh

wire rope mesh

wire rope mesh

wire rope mesh

wire rope mesh
Stainless steel wire rope mesh used for security fencing, which is combined by the ropes winded together.
Material : high tensile stainless steel 304, 316, 304L and 316L.
steel rope construction : 7 X7 or 7 X19, and 1X 7 and 1 X19
weaving method: ferrule rope mesh, or knotted rope mesh(no ferrule)
Weaving feature:
The standard angle is 60°, but other angles are also available, such as 10° and 90°. Stainless steel ferrule rope mesh is very flexible, and its width and length can be modified. Therefore, it is widely used in various fields of our daily life, such as stainless steel rope mesh green wall and stainless steel balustrade mesh.
hole type : rhombus or square hole
Panel Size: Our standard size is 10 meter x 10 meter. others according to required specification.
Wire Rope Diameter: Our wire rope diameter ranges from 1.2mm, 1.6mm, 2.0mm, 2.4 mm, and 3.2mm.
Apertures: Our standard apertures are from
120mm x 120mm, 102mm x 102mm, 90mm x 90mm,
76mm x 76mm, 60mm x 60mm, 51mm x 51mm,
38mm x 38mm, 25mm x 25mm, 20mm x 20mm.
Others can made specially.
Features:
l Light weight and high flexibility.
l High strength, resistant to fatigue and impact.
l Good softness.
l Excellent rust-resistance, recyclable and durable.
l Outstanding perspectivity and grand appearance.
l Maintenance-free and environmentally friendly.
Application:
Stainless steel wire rope mesh is widely used as the safety fence in the zoo,animal cage,aviary mesh, bird cage, bird netting. Balustrade mesh,railing mesh,plant climbing wall,architectural mesh, falling prevention mesh,staircase protective mesh, The courtyard security fence.
Plant climbing wall,wire mesh bag,decorative mesh and so on.
The specification of stainless steel ferrule rope mesh

Code

Rope Construction

Rope Diameter

Aperture

Breaking Force

Inch

mm

mm

kN

7 × 19

1/8

3.2

120 × 208

7.38

LSRM-02

7 × 19

1/8

3.2

100 × 173

7.38

LSRM-03

7 × 19

1/8

3.2

90 × 156

7.38

LSRM-04

7 × 7

3/32

2.4

100 × 173

4.18

LSRM-05

7 × 7

3/32

2.4

90 × 156

4.18

LSRM-06

7 × 7

3/32

2.4

80 × 139

4.18

LSRM-07

7 × 7

3/32

2.4

70 × 121

4.18

LSRM-08

7 × 7

5/64

2.0

100 × 173

3.17

LSRM-09

7 × 7

5/64

2.0

90 × 156

3.17

LSRM-10

7 × 7

5/64

2.0

80 × 139

3.17

LSRM-11

7 × 7

5/64

2.0

70 × 121

3.17

LSRM-12

7 × 7

1/16

1.6

80 × 139

2.17

LSRM-13

7 × 7

1/16

1.6

70 × 121

2.17

LSRM-14

7 × 7

1/16

1.6

60 × 104

2.17

LSRM-15

7 × 7

1/16

1.6

51 × 87

2.17

LSRM-16

7 × 7

3/64

1.2

80 × 139

1.22

LSRM-17

7 × 7

3/64

1.2

60 × 104

1.22

LSRM-18

7 × 7

3/64

1.2

50 × 87

1.22

LSRM-19

7 × 7

3/64

1.2

40 × 69

1.22